It all started with 
Then, there's me. I'm broke. 
What to do? After the advice from Donna at
Funky Junk Interiors
,I challenged myself. What bigger challenge was there than giving this
a makeover…..for free!
So, I got creative, shopped around my house, and worked my tush off the entire week.
"after"
"after"
My biggest project was creating the concrete faux finish on the floor. 
If you are a fan on Facebook- You've already seen the video…See what you are missing? Go 'like' me on FB , before you miss out on something else!
I'm here to save your hideous vinyl flooring! Even if you don't decide to do the faux concrete finish. You can just as easily, create any sort of pretty pattern. The possibilities are endless!
SUPPLY LIST:
SAND PAPER
I would use an 80grit . Honestly, use whatever you have. Just be sure to sand away any shine on your vinyl floor.
PRIMER
I had Zinsser on hand
although, I would recommend, a really good bonding primer .
SKID RESISTANT PAINT
This gives the floor a gritty more authentic concrete look and feel.
black craft paint-
just a dab will do ya
white craft paint
clear glaze-
This allows a soft white film finish, like real concrete. 
CONTAINER FOR
MIXING-
You could even use a paper plate…toss it when you are finished.
DRY BRUSH-
Use a dry brush to soften wierd, rough edges of paint strokes
ROUGH BRISTLE
BRUSH-or-scrub
brush-
to create paint speckles 
paint roller
polyurethane-
Use a water base , to prevent yellowing.
Go outside.Look at real concrete. Have photos of concrete for reference . 
Don't worry. It's only paint. If it doesn't turn out…..Just paint it again! Have fun and be proud of your creations~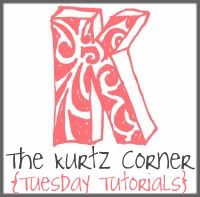 Pin It
Share and Enjoy
Related posts: