Objects , in my life, aren't just "objects."
Just about everything holds a memory for me. For example : Something as simple as my coffee pot. It's just a regular coffee pot, I'm sure a million or more people own the exact same one. But, I don't just look at is as a coffee pot. I smell the rich , bubbling , aromatic, smell and the sound of the first drop hitting the cup in the morning. I remember snowy days , longing for the first reach of coffee to warm my finger tips through my ceramic mug. ….
But, this post isn't about my love for the coffee pot that sits in my kitchen . I could easily throw the thing away and buy a new one. It's about memories and feelings that follow me through my life,seeing objects that tickle each of my senses.
This is how I design a space, with a feeling.
When I start designing a room, I usually have no clue what I'm going to do. It takes me a while. I have to walk around the space , think about it for days on end. Most usually, I'll see an object , when I'm least expecting it and go, "THAT's IT!"
—-
You all know I'm designing my bathroom (Worlds ugliest bathroom) and the only thing I had to go by was my blue and white tile.
I never use blue. I'm not a fan of blue .Which made this job all the more harder, besides the fact that I'm doing the entire room
with no budget
.
As I was digging through my endless piles of unpacked boxes ,from the move, I found my inspiration.
This shaving cup holds a lot of memories for me. It immediately takes me back to when my grandfather was still alive, he had one exactly like it. I remember sneaking into the bathroom and swirling the little bristly brush across the used up soap bits and making bubbles. I can still visualize it's exact placement above the bathroom sink . The feelings and memories I feel from this shaving cup  is going to be the design of my bathroom.
Here are  a few things that I'm pulling together:
Be sure to come back and see the finished bathroom next week!
(I hope. I have been spending an awful lot of time waiting for paint to dry. …. )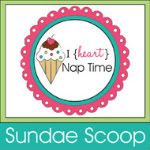 Pin It
Related posts: