Usually my furniture make-overs involve wood ,
lots of paint,
and occasionally some  fabric
This time around I decided to try something different.
"old metal dresser" displayed on a craigslist ad  intrigued my interest . The only place I've seen metal furniture is in Anthropology.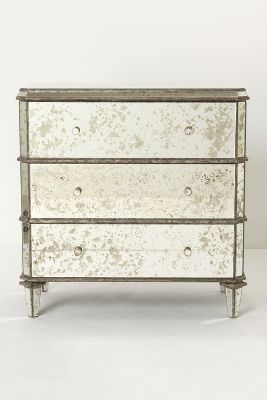 Which, I CAN NOT afford!
So, when I clicked on the ad and saw this
I was never so excited about one piece of furniture.
I tried to explain to my husband that it WAS a good idea to go pick up this piece and it was an even BETTER idea for him to sand each and ever bit of paint off of the dresser to reveal the awesome shiny metal underneath. Do you think he went for it? Well, let's just say it wasn't easy and we had a few bickering conversations back and forth about the idea.
Hubs finally went for it and grinded off every square inch of the icky wood grain and gold paint . After many agonizing hours and , " Are you sure you don't want to just spray paint this?" and , " Yes, I'm sure just keep working's" later I finally had my most favorite reveal ever!
I present to you :
Isn't it amazing? Even better….It only cost me $40!
I hope you like it as much as I do!
Pin It
Share and Enjoy
Related posts: